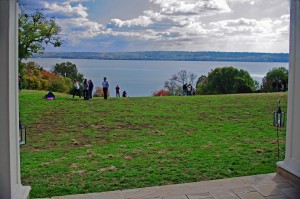 Taking time to recharge is vital to maintaining a high level of productivity. While we often push ourselves to work more, it is actually best to stop working on a regular basis so you can return to work refreshed and re-energized. Scheduling in low-cost getaways is a great way to get a change of scenery and time for renewal on a regular basis.
Getaways don't need to be costly in time or money. They can range from day trips to a few nights away. Either way, the goal is to create space for rest and cultivate creativity. When we are always rushing to the next activity or pushing to finish a task, we get tired and our creative juices dry up. We can recharge by taking time out on a guilt-free getaway. Here are some easy ideas to incorporate getaways into your schedule without taking vacation time or breaking the bank.
Day Trips
1. Visit a vineyard or orchard and taste the wares.
2. Go on a self-guided architecture tour of a quaint town or big city.
3. Spend a day on the water with a boat or just a tube.
4. Sit at a local café or coffee shop with your favorite drink and a good book.
5. Find a park or scenic area and enjoy the view.
Overnight Trips
1. Visit a bed and breakfast in a nearby town for a cozy and relaxing change of scenery.
2. Go to a hotel with a spa, relax in the jacuzzi and get a massage.
3. Find an attraction that inspires you such as an art museum, historical site, or natural landmark then soak it in.
4. Head to a nearby National or State Park for a night or two of camping, complete with star gazing and a campfire.
5. Spend a weekend at the beach getting some vitamin D and a new perspective.
While these ideas are fairly inexpensive options to begin with, there are ways to make them virtually free. For instance, packing a picnic cuts down on the cost of food and adds to the experience. We also choose activities that are local or within a few hours of home to keep the cost of travel to a minimum.
For overnight trips, my husband and I often redeem points for the hotel chain we frequent. We earn points through our rewards credit card and use them to stay for free. With these time-friendly and low-cost options, we can enjoy getaways without feeling guilty for using vacation time or spending too much money.
We want to hear your ideas for getting away. What keeps you from getting away regularly? What is your favorite guilt-free getaway?