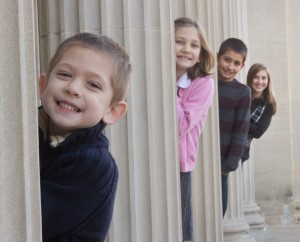 While I set aside regular time to spend with my kids, I often find myself physically present but mentally preparing for a project, planning next week's schedule, or rehearsing an email response. When this happens, I end up trying to wrestle my thoughts back to the present. It's not that I don't want to be with kids, there are just so many other things vying for my time and attention that it's hard for me to be in the moment.
My kids are very gracious with me, but I don't want them to get the idea that I'm not interested or that I'd rather be somewhere else. In my worst moments I'm totally preoccupied. At other times I'm only mildly distracted. Either way, I'm not fully present with my children.
I mean, you know it's bad when my 5-year-old wants to snuggle and he says, "Can we snuggle without that?" pointing to my glowing tablet perched on my other knee. Multi-tasking and quality kid time just don't mix well. One knee and half an arm just isn't enough when they need my full attention.
Now, I'm not suggesting I can drop everything at any moment to cater to my son's request to snuggle. Still, I can make sure that they don't have to share my attention all the time. I've already earmarked minutes and hours for my kids. What I really need to do is make sure my focus is singularly attuned during that time.
I've come up with this list to help me be present with my kids – not just physically, but mentally and emotionally too.
Just put it away – my laptop, my tablet, my phone – I don't even want to hear the alert chime.
Set good boundaries so my kids know when I'm working and when it's time to snuggle.
Be more engaging so my kids know I'm living the moment with them instead of planning something for next week.
Have my kids hold me accountable by asking what they notice, what they feel, and when they need me.
Do mental preparation so I'm ready for the special time instead of trying to switch gears too quickly.
Try again when I inevitably fail to keep my thoughts corralled by re-focusing my attention on my child.
My kids deserve my best. They deserve the investment of my time and energy without divided attention. And I deserve the peace of knowing I have given them my all.
I want to hear your ideas. What do you do to spend quality time with you kids?