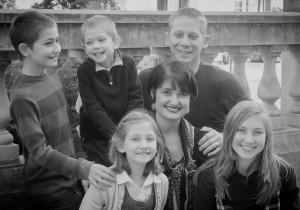 In my efforts to manage work and life, spending quality time with my family is important. Of course, sitting around staring at each other isn't the type of family time I'm looking for. Meaningful family time to me is interactive, memorable, and fun. While I spend time with my family all week long, we try to plan at least one special event weekly for quality family fun together.
There are many options available for family-friendly events or activities, but with six of us, many of these activities can be pretty costly. For instance, just going to a movie can easily cost us over $50 for six tickets not to mention $10 for a bucket of popcorn. Spending this much each week just doesn't fit in our budget, plus sitting in a movie theater isn't very interactive. So we get creative in finding outings and activities that make memories for little to no money.
Here are the top 25 ideas we love for spending quality time together:
1. Go for a hike. From parks to local trails, going on a hike is a way to get back to nature and spend time together too. Hikes range in difficulty from level, paved trails to more rustic and challenging options. Trail guides are usually available at your local bookstore or online. These guides offer information on the length of the trail as well as the sights along the way.

2. Go to family swim. Community centers often have pools (indoor or outdoor, sometimes both) and local gyms may also have a pool. Our gym membership includes access to the lap pool, so we schedule swimming into our week.
3. Go sledding, in winter. The powdery white stuff called snow is a great way to have some fun in the cold. Building a snowman or snow fort (igloo) is a fun family activity. You can also find a hill to go sledding.
4. Go canoeing or tubing, in summer. Do you have a river or a lake nearby? Playing on the water is a delightful summer activity. You can rent or purchase a canoe or tubes for a relaxing day in the sun.
5. Do a project together. Whether you plan a project of your own or volunteer to help someone else, working together for a common goal is a great way to bond and make memories. From planting a garden to helping Habitat for Humanity build a house, projects can be a meaningful family activity.
6. Build a fort. While some of you may think up some high-tech ways to build forts, good old-fashioned blanket-draped furniture is the way we roll. If you really want an adventure, sleep in the fort for the night – or at least let the kids sleep in it!
7. Roast marshmallows over a backyard fire pit. Our no-frills fire pit was a small investment to make for the fun we have gathered around it. Roasting marshmallows for s'mores or even just sitting around it telling stories turns an ordinary evening into a night to remember.
8. Dance. A radio, a favorite cd, or a playlist is all you need to start dancing. We push our couch and coffee table to the side to clear the floor and get our groove on with our favorite songs or the Wii game Just Dance. This is great for multi-family fun too!
9. Make a special meal together. Eating is always a good option, but it is even better when you work as a family to make the meal. Try out a new recipe or assign each person a dish to make. To dress up dinner, eat by candlelight or wear fancy clothes.
10. Visit a museum (or other local attraction). The possibilities with this option are almost endless. If you don't like museums, try a historic house, a battlefield, planetarium, arboretum, aquarium, zoo, sculpture garden or other local attraction. Sometimes you have to purchase tickets, but many places are free or low-cost.
11. Visit an orchard or strawberry patch. Our local orchard has a great market, playground structures for the kids, and of course, acres and acres of fruit trees. There is no cost to enter and the price for a bag is well-worth the family time picking our own apples.
12. Plan a dream family vacation. Dreaming together creates a shared vision for the future and gives every member of the family a sense of ownership to work together to reach the goal. Gather travel brochures or search the Internet for vacation ideas (Pinterest is a good resource too). Plan the destination and the activities you will do when you get there. Figure out what it will take to make it happen and start planning for that dream family vacation.
13. Go to a farmer's market and try a new food. Buying fresh food at a farmer's market is not only healthy for your family, it is a great way to try new foods and teach kids about nutrition. Making the trip a family experience gives everyone a chance to peruse the market and have a say in the food that is purchased.
14. Play chess in the park. Take your chess board to the park for a picnic. If you don't like chess, checkers or other board games are good substitutes. Just beware of small game pieces that may blow away if it's windy (like paper money or cards).
15. Explore a historic downtown area. Downtown areas often boast delightful little shops and beautiful architecture. If the downtown area is historic, it's even better! Our downtown is a historic walking mall with quaint shops and a splash pad. We love to walk, window shop, and play in the fountain.
16. Explore a state or national park. Check out local state and national parks to explore hiking trails and natural scenery. Usually there is a small entrance or parking fee, or you can purchase an annual membership to enjoy the parks all year.
17. Have a water balloon fight. A bag of water balloons costs less than $2 but the fun of filling them and throwing them at each other is priceless. You may need a towel and a change of clothes when you're finished but smiles and family fun are guaranteed.
18. Make homemade ice cream sundaes. A quick trip to the grocery store for a bucket of ice cream and your favorite toppings is all you need for a yummy family activity. Work together to get the toppings ready (making whipped cream, chopping fruit or candy, etc.). Then, pass out the bowls and spoons for the best ice cream sundaes!
19. Read stories by the fire. During the summer, the fire pit creates a nice flame to gather around to read. In winter, a fireplace offers a cozy place to curl up with a good book. Choose a story to read together. For older kids, everyone can take turns reading.
20. Create a scavenger hunt for some friendly competition. Create a scavenger hunt or find a list on the Web. Split the family into two teams, or invite another family to join you. Each team will work to complete the scavenger hunt first to win a prize. Prizes can be simple like who gets to choose dessert.
21. Go on a photo shoot. Take the camera and your cellphones to snap pictures of interesting buildings, beautiful scenery, silly poses, or anything else that catches your eye. Don't forget to take pictures of each other taking pictures!
22. Do a taste test. Find 2-3 different recipes for the same dish. Spend time together making each recipe then do a taste test to choose your family favorite. To add a touch of competition, create teams and create your own recipes (for the same or different dishes) then taste your creations.
23. Play Capture the Flag with another family. Sometimes family activities are more fun with others. Invite another family (or a few families) for a rousing game of Capture the Flag. For even more fun, play it after dark followed by a fire in the fire pit for marshmallows.
24. Have a car washing water fight. I always like coupling work with play. What's better than a clean car and a happy family? Put on your swimsuits and head to the driveway with buckets of soapy water to scrub the car. Of course, if you get wet while you do it, or if you happen to spray each other with the hose while rinsing the car, you just have more happy memories.
25. Plan a friendly prank or surprise for another family. Over Christmas, our doorbell rang and we found a box filled with games and snacks left anonymously on our porch with a note that said, "You've been elfed!" What a delightful way to have fun as a family than to devise a fun surprise for your friends. Make sure each member of the family is involved in the planning and execution of the surprise.
Please share your ideas! What does your family love to do together?